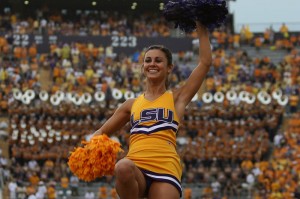 This weekend I decided that since dangerous storms really don't scare me, I would travel to Louisiana (yes, that is closer to Hurricane Ike than Georgia) and have a little mid-season football fun and celebration with the LSU crew.
I'm currently writing from Montgomery, Alabama, where I will be spending the night and morning with my friend Matt before we head on over to Louisiana. So far I've driven through some nasty rain in Georgia and had to replace my aging car battery in Columbus… hopefully the rest of the trip will run smoothly and without any further car repair purchases.
Tomorrow night should find us at a pub crawl in New Orleans and then Saturday will be filled with tailgating goodness. I plan on returning to Metro Macon sometime Sunday evening, armed with tails of debaucheries and video evidence of our celebrations. Hurray!!
Now to avoid that hurricane…
ps. Image is from Wikimedia commons. Unfortunately I don't believe I'll be quite that close to any LSU cheerleaders this weekend.